Dental Implants With Fixed Teeth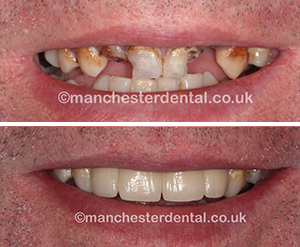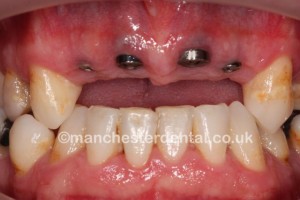 The photos are of a patient treated at Manchester Dental who was not happy with his smile.
He was extremely nervous and had not been to the dentist for many years. He was the perfect example of someone wanting and needing dental treatment but too afraid to have it done. He came to Manchester Dental saying that for years he wanted to have his teeth fixed so that he can smile without being self conscious. He was hoping to apply for a new job but had no confidence due to his teeth. We had to do something for this nice gentleman as he was almost in a state of depression due to his teeth.
After discussing various options and getting to know what he wanted to achieve a decision was made to transform his smile with combination of subtle Teeth Whitening, Dental Implants and Crowns. The Manchester Dental team kept him at ease and gently treated him to give the great straight smile you now see.
Instead of talking with his hand constantly in front of his mouth he is now able to talk and smile confidently free of any hands, and with his straight white teeth in full view.
Eating is also now a joy as he can bite, chew and eat with no problems and without worrying what he can and can't eat. "I haven't eaten an apple in years, and now I can".
This was a great transformation and when we first showed him his teeth in the mirror he actually begun to cry tears of joy….