Dental Implants – Same Day Teeth
All of the teeth removed, Dental implants placed and teeth fitted all within a few hours. A new smile and a new you by lunchtime.
Dental implants enable teeth to be replaced, this can be one tooth, a few missing teeth, or all of a person's teeth. Sometimes this can be done following an accident and breaking a tooth too.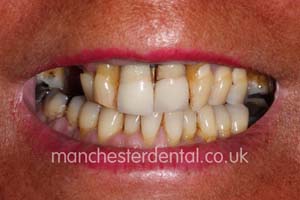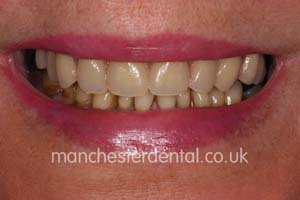 Life is hectic, and sometimes a dental problem developing over a number of years can lead to all the teeth needing taking out, either because they are loose or broken. Naturally this is a very scary situation to be in. Sometimes such a situation leads to people not seeking the correct help and then the teeth deteriorate more and more leading to a point where eating is difficult and painful, and this prevents a person from smiling and even feeling happy due to the way the teeth look.
Some dental surgeons can place dental implants and then fit the teeth after two months of healing but very few have the training required to remove the teeth then place the dental implants and fit the teeth all at the same time. This is known as same day teeth or teeth in a day.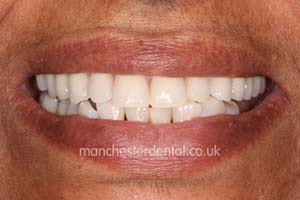 Being told that all of your teeth need taking out is a very difficult situation to be in. Then being told you need to wear dentures for a number of months before you can have dental implants is also not a great solution. What if you were in such a position but were told that you can have your teeth out, the implants placed and your fixed teeth fitted all on the same day, usually within a few hours?
This is a service that can be provided at Manchester Dental. Our very experienced team are able to provide all aspects of dental implant treatments including same day teeth or teeth in a day. There are various names to this technique but essentially they mean that you can have your teeth out, dental implants placed and teeth fitted all within a few hours.
If you have been ignoring a dental problem and have been worried as to what options you have why not book in for to see our very experienced surgeons to discuss your options.
Book in for a FREE CONSULTATION and pop by into our Manchester dental practice to just have a chat to see what options you have. Things may not be as bad as you may think…and if they are then don't worry, hopefully we can still come up with a solution for you that you are happy with.
At Manchester Dental we regularly have patients sent to us by Dentists for dental implants  here in our Manchester dental practice after they have been told they have to wear dentures and we successfully provide them with fixed teeth on dental implants.
It never too late to get that problem fixed, hopefully we can find a solution for you. Contact Manchester dental for a consultation on your dental implant.