Emergency Dentist Manchester
Out-of-hours dental emergency helpline 0161 748 2674
If you are in pain and require an emergency dentist in Manchester, it may put your mind at rest to know that Manchester Dental offer emergency dental treatment to both registered and non-registered patients.
Our emergency dentist Manchester Team will endeavour to see you on the same day, with limited late evening and Saturday morning emergency dentist appointments also available for those with commitments during the weekday.
If you are suffering from a toothache, or think you may have developed an abscess, our dentist Manchester Team can offer you an assessment and same-day treatment to provide you with quick relief from severe pain.
We know that accidents and oral trauma don't always happen at convenient times, especially sporting injuries to the mouth, and can require an emergency dentist visit. If you or a loved one has had an accident and requires immediate treatment, our dentist Manchester Team will provide a high level of care and will assess and treat the injury as soon as possible.
If you are suffering from swelling in the mouth, this can be caused by a damaged or broken denture, which will require assessment and treatment as soon as possible, before the swollen gums become susceptible to infection. So call our emergency dentist Manchester Team for a same-day appointment and assessment, as soon as possible.
This information covers the majority of reasons why you may be in need of an emergency dentist appointment, but our team of a highly experienced emergency dentists in Manchester can provide dental care for all of the following ailments:
– Toothache
– Abscess
– Accidents & Oral Trauma
– Sporting injuries to the mouth
– Oral swelling
– Swelling of the gums or other areas.
– Damage or broken dentures
– Root canal
– Loose crowns
Manchester Dental is a state-of-the-art dental practice located in Manchester, just a few minutes from the Trafford Centre. You can have complete confidence in the quality of our emergency dentist Manchester Team and the exceptional patient care we offer, meet our team by clicking here.
To book an appointment with the emergency dentist in Manchester Team call the practice on 0161 748 2674.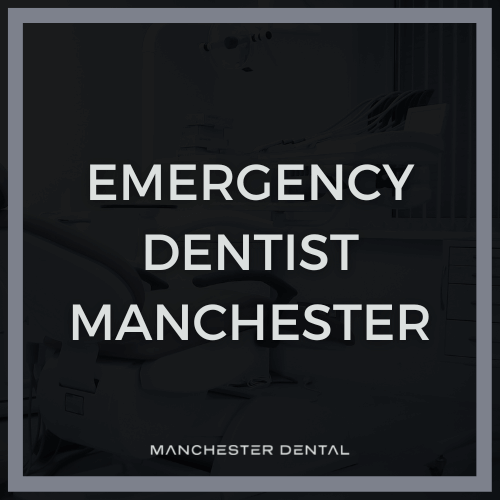 Need to make an appointment?
You can now book your next appointment via our online booking system.
Make an appointment