Smile of the Month November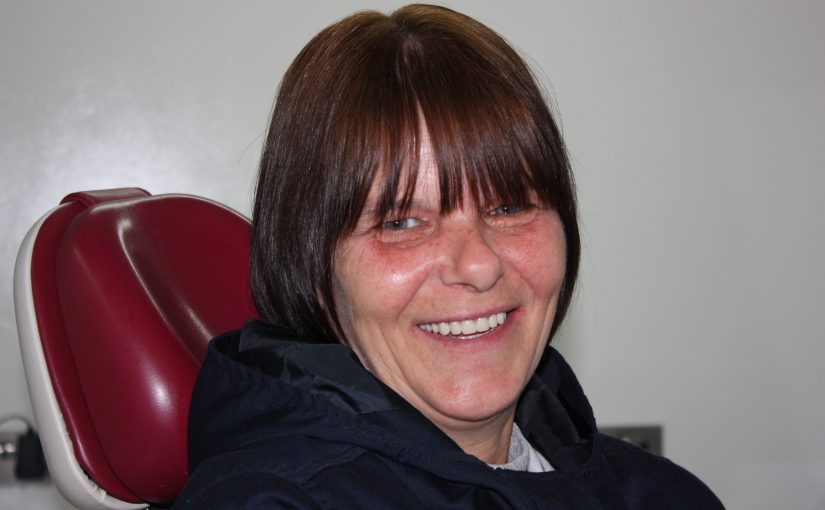 Dental Implants and Smile Transformations
Sometimes a person's fear of the dentist can lead to them falling into the trap of desperately needing dental treatment but not being able to go to the dentist due to the worry of what will need to be done.
It's always best that a problem gets corrected sooner rather than later but it's never too late to get help, there is always something that can be done.
This is what happened to this particular lady. As can be seen in the before photo her top teeth started to wear down so they became too short and almost not visible, and the decay in her bottom teeth had progressed extensively too.
On her first few visits this lovely lady used to attend her appointments at Manchester Dental with her best friend for support as she was extremely nervous. Rapidly she become very comfortable in the dental environment as at Manchester Dental we have years of experience in dealing with nervous patients and in treating such patients in need of various types of dentistry –  from white braces & invisible braces, to white fillings and hygiene appointments, to dental implants and smile makeovers.
There is no gallery selected or the gallery was deleted.
For this particular lady her smile was critical so getting the teeth shapes, positions and colour right was vital. Various appointments were needed to measure, calculate and try in the teeth before the final result was reached, as we don't stop until our patients are happy. On a weekly basis we see patients who have been to other dental practices and are unhappy with the treatment they have received. For this reason we try in what we are doing at each stage to make sure our patients end up with the result they desire.
When it comes to a smile transformation the goal is not just to give a great aesthetic improvement but it's also to give a comfortable result that will improve the ability to eat. Healthy teeth are vital for a good diet enabling you to eat healthy food which in turn will improve how you feel from the inside. So a good set of healthy white teeth will not only improve your confidence but also make you feel better too.
With late evening and Saturday appointments available call us today to see how we can help you.