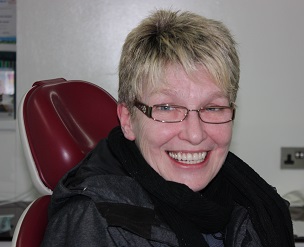 This lady in the photos attended Manchester Dental with the problems of gum disease, loose teeth and loose dentures.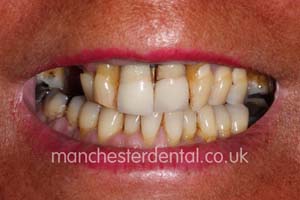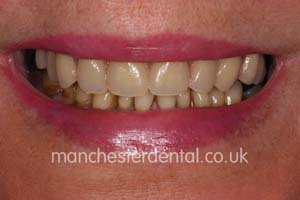 She had been wearing dentures for many years and had just put up with them being poorly fitting as well as her teeth starting to drift and move because of gum disease. She had no confidence in wearing them, did not want to smile and was not able to enjoy eating at all. One option given to her at Manchester Dental was to have a traditional new set of dentures made, another option was to have a new set of dentures made that "lock" into some dental implants.
The first stage was to remove the very loose teeth and then place the dental implants. The process of placing dental implants is quite straight forward, it is done while awake and all we have to do is numb the gum. The whole process is not much different to having a tooth taken out. Everyone we have carried out the procedure on has said that it was surprisingly easy and painless.
After the implants are in and ready the dentures can be made. The dentures are made with clips in them that then attach to the dental implants, so
the dentures then "lock" into place. The dentures are also much smaller than conventional dentures, especially the upper denture as it can be made with almost no palate at all, allowing your tongue to touch the top of your mouth and so enhancing the taste of your food.
The main comment that patients have made is "They fit so well I sometimes forget they are there" and "I can eat anything."
Dental implants can be placed to replace single missing teeth, many teeth or all teeth as in the photos. Another option is to place many implants and have teeth that permanently fit onto the implants that are not removed, they stay in place all the time!
No matter how well traditional dentures are made, dentures "locked" onto implants will always fit firmer.
There is no gallery selected or the gallery was deleted.